November 3, 2011 § 1 Comment
I am finally going to reveal what I received from S*uce , a few days go. Inside the Sauce bag, (as you can see above) I got a pink bow clip, a bag, and a pair of pink hot cat eyes – my favorite item. This gift package is sold at S*uce stores to promote Breast Cancer Awarness, and the money goes to support a 'Friend's of Cancer Patient's Charity', which is obviously a win-win situation. Looking stylish and helping a good cause? Yes please!
Halfway through the shoot, my Camera battery died so I couldn't help my self and open Photo Booth. I absolutely adore these cat eye glasses!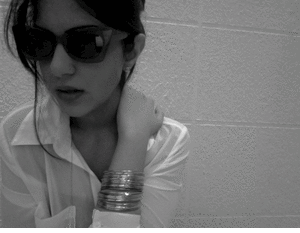 GLASSES: S*uce
SHIRT: Forever 21
BANGLES: Forever 21
SKIRT: Zara
CLIP: S*uce
BAG: S*auce
HEELS:  Jimmy Choo for H&M (Old)
Love,
Mallika